Richmond, Texas Swimming Pool Cleaning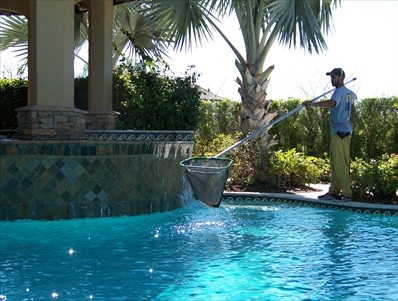 At Sarah's Pool Services our swimming pool cleaning staff maintain records of the services they perform on each individual customer each week and is in direct communication with the customer should any problem arise. One of the most pleasing images of summer is the sparkling swimming pool. The clear water shimmers as the filter hums quietly. There are many elements required to keep a safe and beautiful swimming pool including a routine Swimming Pool Cleaning.
One of the professionals at Sarah's Pool Services can be a life saver. With our help pool owners can enjoy the swimming pool instead of spending precious leisure time conducting a Swimming Pool Cleaning. Keeping the interior of your swimming pool fresh and clean doesn't demand intensive labor, but it does take a steady commitment. Expect to spend between four and eight hours each week during peak season a small outlay compared to the amount of time you'll spend enjoying your swimming pool.
Most swimming pool owners do their best to maintain their swimming pools. But not everyone has the time or energy to devote to swimming pool maintenance. That's why more people depend on the professionals from Sarah's Pool Services for the best and most reliable swimming pool cleaning service in the Richmond and surrounding area.